The Heart of Europe in Dubai
The Heart of Europe in Dubai is the only island destination that brings together the very best of European designs, heritage and hospitality.  The Heart of Europe is located 4km off the coast of Dubai on The World Islands and is set to become one of the most exclusive holiday destinations in The Middle East.
The Heart of Europe is a cluster of six manmade islands which include Germany, Monaco, Sweden, St Petersburg, Switzerland and Main Europe. Based on destinations across Europe, each island boasts a unique design and authentic characteristics.
The Heart of Europe will be home to a plethora of first class facilities including 5,6 and 7 star hotels, private marinas, designer shops and boutiques, cafes and restaurants, bars and clubs and the world's first climate controlled streets. The islands will offer guests a variety of exciting attractions including a permanent circus, European themed live entertainment, kids clubs, water sports, snorkelling, diving and much more! The currency on the islands will be the EURO, to ensure an authentic European experience!
The Islands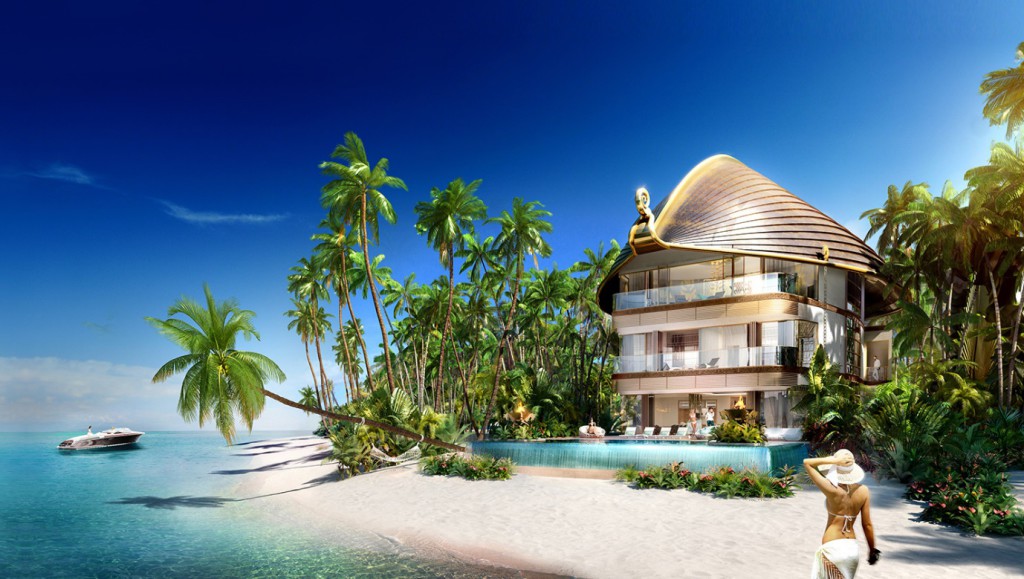 Sweden Island
Sweden Island will be home to 10 luxury private beachfront mansions of which at least five will be furnished by Bentley Home. Each majestic seven bedroom villa boasts a private beach and beautiful landscaped gardens, an exterior pool deck and a stunning tropical landscape. Inspired by Swedish Viking vessels, the roof of each Sweden villa will resemble the upturned hull of a Viking shop and inside each luxury abode, a stylish interior unfolds.
Special features include snow and sauna rooms, floor-to-ceiling windows, breathtaking views of Dubai's epic skyline, expansive balconies, a gym and spa, a private infinity pool and landscaped gardens. Each Sweden Villa will be finished to the highest specifications throughout. Owners will have the option to incorporate a customized, state-of-the-art party / chill-out floor inside the roof area of the property if they so desire.

Germany Island
Germany Island is cleverly designed in the shape of a horseshoe and will be home to 15 contemporary beach villas and 17 lagoon properties. All 32 villas will boast stunning waterfront views, privacy and tranquillity. Designed by European architects, all properties will be characterised by modern German architecture and premium quality fixtures and fittings.
German architecture has a long, rich and diverse history which is synonymous with renowned quality and design. The Heart of Europe is combining a Bauhaus style with modern, functionalist design for luxury everyday living. Incorporating clean lines, floor to ceiling windows and the highest specifications throughout, the minimalist properties will be powered using green energy and solar power, thanks to leading German technology.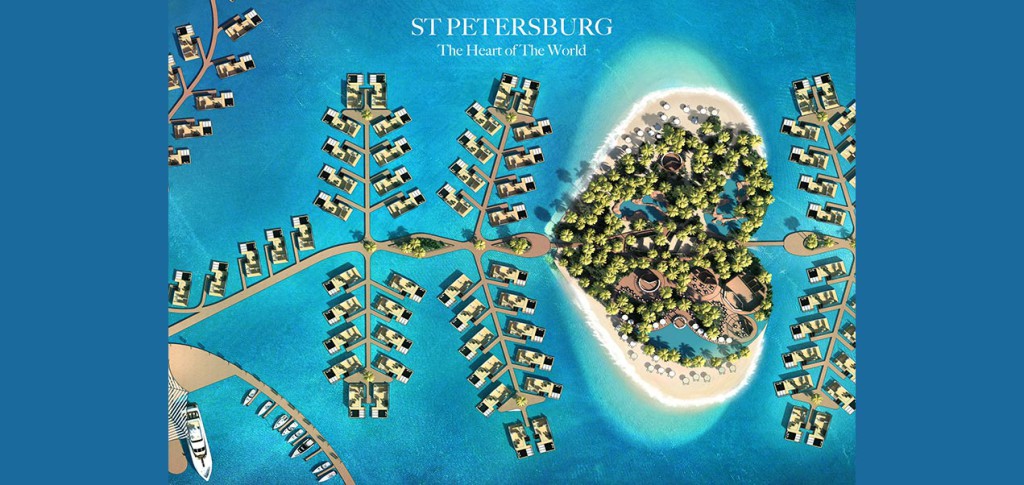 St Petersburg Island
St Petersburg Island, designed in the shape of a heart and inspired by The Maldives, will be home to 90 Floating Seahorses, a private beach with a lagoon, swimming pool, café and restaurant. St Petersburg Island will be operational on 1st October 2016.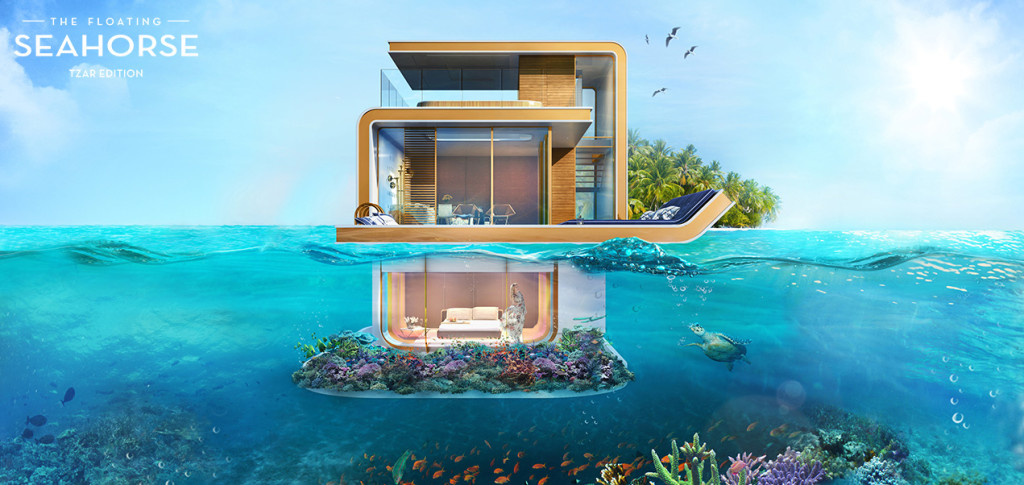 The Floating Seahorse
The Floating Seahorse in Dubai is an iconic, one of a kind luxury lifestyle product which was officially unveiled at The Dubai International Boat Show at in March 2015.
The Floating Seahorse is a truly unique underwater product which is the first of its kind in the world. It is an exclusive marine style retreat (essentially a boat without propulsion) which has its own plot in the Arabian Gulf.
Each individual Floating Seahorse will boast three levels, one underwater, one at sea level and an upper deck. The master bedroom and bathroom will be totally submerged underwater and will command breathtaking views of the surrounding coral reef and marine life. The sea level accommodation will boast floor to ceiling windows, uninterrupted sea views, a fully-fitted kitchen with a dining area, an open plan living area and when the glass façade opens the sun deck becomes an extension of the living space. The upper deck is the perfect place for alfresco dining and relaxation and features an informal bed, a mini bar, a kitchenette and a beautiful glass-bottomed Jacuzzi. The deck can be converted into a winter bedroom which can be enclosed with retractable drapes. The Floating Seahorse has been designed and developed by leading European architects for Kleindienst Group's iconic island project, The Heart of Europe, located just 4km from the coast of Dubai.
Main Europe Island
Home to an exciting selection of hotels, leisure and entertainment facilities, Main Europe will be the vibrant hub of The Heart of Europe.
Main Europe, the largest island at The Heart of Europe, will offer an exciting choice of luxury hotels, beautiful marinas, pristine white sandy beaches, cafes, restaurants, boutiques and entertainment facilities. One of the most unique features on the island will be the ground-breaking climate control technology which will convert narrow cobbled streets and picturesque plazas into a beautiful winter wonderland!
Taking inspiration from some of Europe's most charming cities and beachside destinations, visitors to the island will be able to experience and enjoy the very best of different countries around each corner! From themed street cafes and boutiques to exclusive beach clubs and hotels, Main Europe Island offers a taste of France, Italy, Spain, Germany, Portugal, Austria, Denmark, Montenegro and Switzerland to name just a few countries!
Key attractions on the island also include a five star deluxe luxury hotel dedicated to families with children, various European themed boutique hotels and a variety of captivating live entertainment and events throughout the year.
The Cote d'Azur Hotel, located on Main Europe is a luxury beach hotel with over 600 keys. The contemporary Mediterranean style hotel will be home to premium quality rooms, suites and deluxe apartments with balconies. The prestigious holiday destination will be one of the island's exclusive features! The design of the hotel takes inspiration from modern day Mediterranean architecture. Synonymous with Le Côte d'Azur (The Coast of Blue in the south of France), the hotel will incorporate key features from some of southern Europe's most impressive architecture and design. In addition, the hotel will boast high quality specifications throughout and sustainable and state-of-the-art technology.
---
Investment opportunities are currently available on St Petersburg Island, Germany Island, Sweden Island and in The Cote d'Azur Hotel.
Other island investment opportunities on Switzerland and Monaco will be released in due course.
For more information please visit www.thoe.com or call Feras Akhras, Director of sales THOE, feras@thoe.com +971 56 4846360
Links:
For initial information, please contact:
Mr. Aleš Fiedler
Mobile: (00420) 724 464 425 or (00971) (0)50 224 1466
Email: af@gccexpansion.com
Languages spoken: Czech and English